Healer
2021

My role
Visual Design
UX Design
Prototyping

Team
Daisy Chen, Chole Li, Kathy Wang

Duration
2 week
Healer - Post-Covid Healthcare
, is a healthcare app for people who are experiencing ongoing pain, symptoms, or any other health concerns because of COVID-19. On the one hand, it provides a place for people to self-report and track their post-COVID symptoms. On the other hand, by incorporating IQVIA's HealthCare Locator Software Developer Kit (SDK), Healer helps the user to easily locate the healthcare professionals when they seek professional advice.
The project received
Third Place
in COVID-19 Healthcare App Challenge by Microsoft & IQVIA.
PROBLEM SPACE
People who have already recovered from the acute phase of COVID-19 might still have the problem of
living with a series of post-COVID syndrome
, which continues to cause troubles in their life. A spectrum of symptoms after acute COVID-19 has been widely observed not only in people who were severely ill but also in those who were only mildly hurt by the disease.
(Data as of June 2021)
Meanwhile, many health professionals have pointed out
the necessity of continuing care
and even re-admission to the hospital after recovery from COVID-19. However, COVID long haulers and Post-COVID care are often overlooked and lack enough attention. Therefore, we feel motivated to shed light on the post-COVID health conditions and call the public's attention to the importance of post-COVID care.
USER RESEARCH
To start our research, we conducted preliminary user interviews with previous COVID-19 patients around us. Throughout the process, we found out that very few of them understood the pattern and long-term influence of post-Covid symptoms, and have little knowledge about possible resources for professional help. We created the following journey map for COVID long haulers who are seeking for support from healthcare professionals through a mobile health app.
OPPORTUNITY
How might we help COVID long haulers to effectively understand their post-COVID health conditions and connect them with support from healthcare professionals when necessary?


EXPLORATION
We decided to create a healthcare app for people who are experiencing ongoing pain, symptoms, or any other health concerns because of COVID-19. The goal is to provide COVID long haulers with a platform to self-report and track post-Covid symptoms, and easily find healthcare professionals when they need professional advices and treatments.
INFORMATION ARCHITECTURE
ITERATIONS – LOW FIDELITY
1 - Home Page

2 - Find Healthcare Professionals
FINAL OUTCOME - PART 1
The final design of Healer includes two major parts. First, as a daily symptom tracker, Healer helps track and understand users' post-Covid conditions. Users are able to:






Update their daily health condition, reporting post-COVID symptoms if any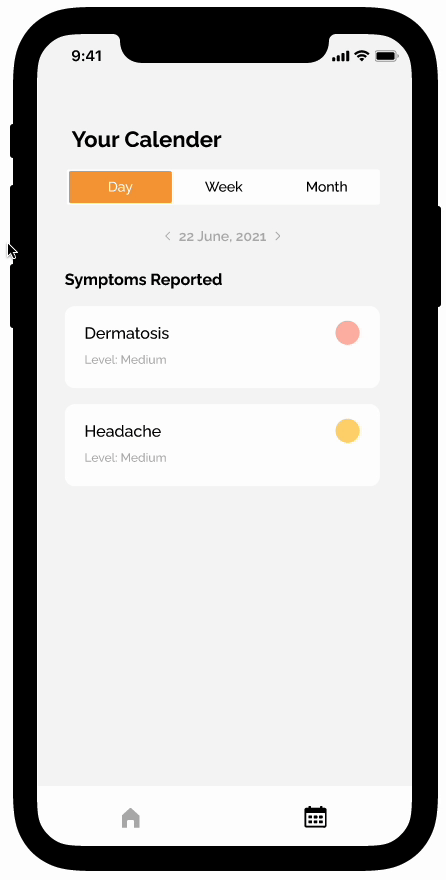 View the history of their reported symptoms using a calendar

FINAL OUTCOME - PART 2
Secondly, Healer connects users with Healthcare Professionals via IQVIA's HealthCare Locator SDK. Users are further able to: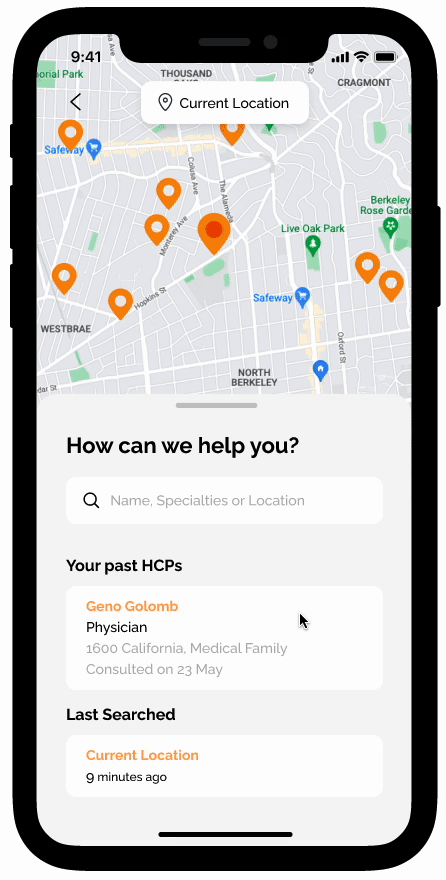 Locate and choose healthcare professionals based on personal needs





Generate a medical record based on the user's past health data before seeing a professional


TAKEAWAYS
One major challenge we encountered is how to minimize the redundant data entry and HCP searching process while providing users with robust support on post-COVID care. Throughout the process, we learned how to encapsulate our considerations and solutions in many details of the interaction design. We also learned how to efficiently work and collaborate under time limit and other constraints.
We believe that with the combination of an efficient health data tracker and the HealthCare Locator SDK, Healer is able to respond to the needs of post-COVID care and empower people in the enduring healing process against the post-COVID war.