FableAR
2021

My role
Interaction Design
Unity Development

Team
Elijah Lee, Xiaobai Ji, Susanne Maddux, Jan-Simon Veicht

Duration
3 weeks
Albany Bulb is a community based, public art park which was built on trash and construction debris. FableAR is an augmented reality experience which allows visitors to digitally create and contribute art at Albany Bulb without leaving a physical footprint in its natural landscape. They can create unique virtual animals using found objects and natural elements of the landscape, engage with their animated animals within the space, and leave them for others to explore and play with.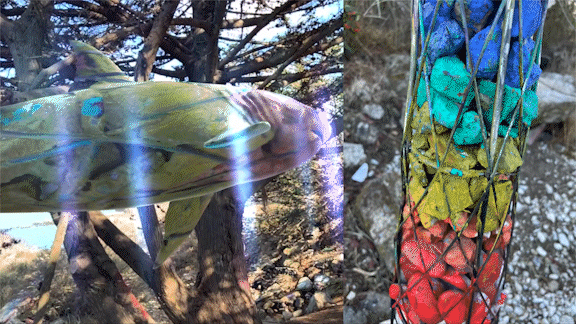 DESIGN RESEARCH & ANALYSIS

Albany Bulb is home to a variety of physical art practices that incorporate natural elements, trash, found objects, as well as graffiti on rubble and trees. It has become a destination for freeform public contribution and viewing of art. We are motivated by the historical and cultural richness of the site, from a landfill to a natural urban art gallery, and want to bring an additional layer of interaction and story to this site.
Interviews
Field Research
Site Analysis
INSIGHTS & CONCEPT
How to invite visitors to engage with the found art culture at Albany Bulb without leaving a physical trace in nature, and how to mediate the relationship between human and nature?
Inspired by the ever changing nature of the freeform creation, and the practice of public art contribution at Albany Bulb, we see
found object
as a creative art medium that can bridge between the digital and physical space, and also between nature and human world.
Images of inspiration and sketches of our concept
Our final concept is to create
an AR experience with the found objects at Albany Bulb,
where objects come to life as the form of spiritual animals, and are offered to the nature from the visitors.
We set up FableAR at a particular location at Albany Bulb: a pine tree at the edge of the park where visitors come to rest and take in the view across the bay as a destination spot. It is surrounded by eclectic works of art and spiritual artifacts.
The small ecosystem of the objects around the tree is dynamically changing and creates an atmosphere of a carefully curated ensemble of found art in some sort of offering to the site.

USER FLOW
We would like the visitors to survey and explore the existing found art on the site, engage with the space through augmented reality, and experience the animals that were previously created by other visitors. Most importantly, we invite them to be creative about the usage of the found objects and natural elements, and make their own contribution to the digital spiritual world.
AR DEVELOPMENT
STEP 1 - Image Anchor

We first implemented an image anchor to map the virtual environment onto the real life environment. When the image anchor is detected, all the AR scenes will be activated.
STEP 2 - Texture mapping

Texture mapping is the process of applying the texture/image to a 3D model. The process consists of unwrapping a 3D model into a 2D UV map, applying a texture image onto the UV map, then wrapping the UV map back on the 3D model. The texture mapping process was used for each animal on our site. We used images of an art installation and personal memorabilia to transform them into 3D animals such as bears, eagles, deer, and sharks on the site.
STEP 3 - Animation

FINAL PROTOTYPE
User onboarding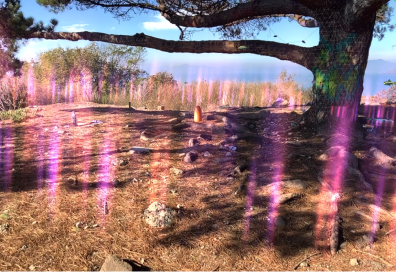 Interact with
found objects
Interact with
spiritual animals